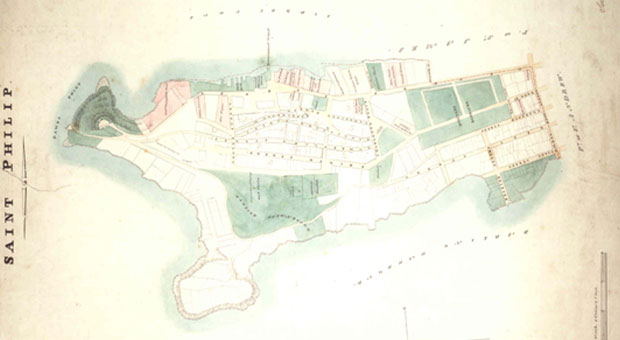 Location: Dawes Point / Tar-Ra, The Rocks
Author: Paul Irish and Tamika Goward
The Aboriginal name for the peninsula on the western side of Sydney Cove is Tar-Ra. It is also known as Dawes Point because it was the site of an observatory built in April 1788 by Lieutenant William Dawes of the First Fleet. He lived and worked here, and with a young Aboriginal woman Patyegarang, compiled the first dictionary of the local Aboriginal language of Sydney.
Large flat rocks at the tip of the peninsula, directly underneath the southern approach of the Sydney Harbour Bridge, were said to have been used by local Aboriginal people as a place to cook fish. These same rocks also contained Aboriginal rock engravings. Rock engravings were carved by Aboriginal people onto level sandstone platforms, ledges or small rock exposures. They often show fish or land animals, ancestral beings, human figures, weapons, and other motifs. Engraving sites can be made up of one single figure or many figures.
The engravings were located close to the former Dawes Point Battery. In 1883 they were remembered by Richard Sadleir, who had arrived in Sydney in the 1820s and had an interest in Aboriginal people and culture. He said that the engravings included a whale, a figure of a man or ancestral being, and other figures. Unfortunately no images of the engravings exist and they appear to have been destroyed many years ago.
The Dawes Point engravings were among thousands of engraved figures that were once found around the sandstone outcrops of the Sydney region, some of which still survive. We do not know how old individual sites are, but archaeologists believe their style suggests that they are between 5,000 and 200 years old. In Sydney, engraved images of sailing boats and other European subjects show that the tradition also continued after the arrival of Europeans.
Rock engravings probably had many functions within the social world of Sydney's Aboriginal people. Some are thought to have indicated territorial boundaries, some were important for ceremony, and others may have been teaching places to educate Aboriginal children about nearby resources and how to share them. The meaning of the Dawes Point engravings is not known, but they give a good indication of the complex social and cultural world of Sydney's Aboriginal people. Engravings continue to hold deep significance to Aboriginal people living in Sydney today.
References
R Sadlier, 1883. The Aborigines of Australia (Sydney: Government Printer).
Val Attenbrow, 'Archaeological evidence of Aboriginal life in Sydney', Dictionary of Sydney, 2012.
AHIMS ID Number 45-6-0030.